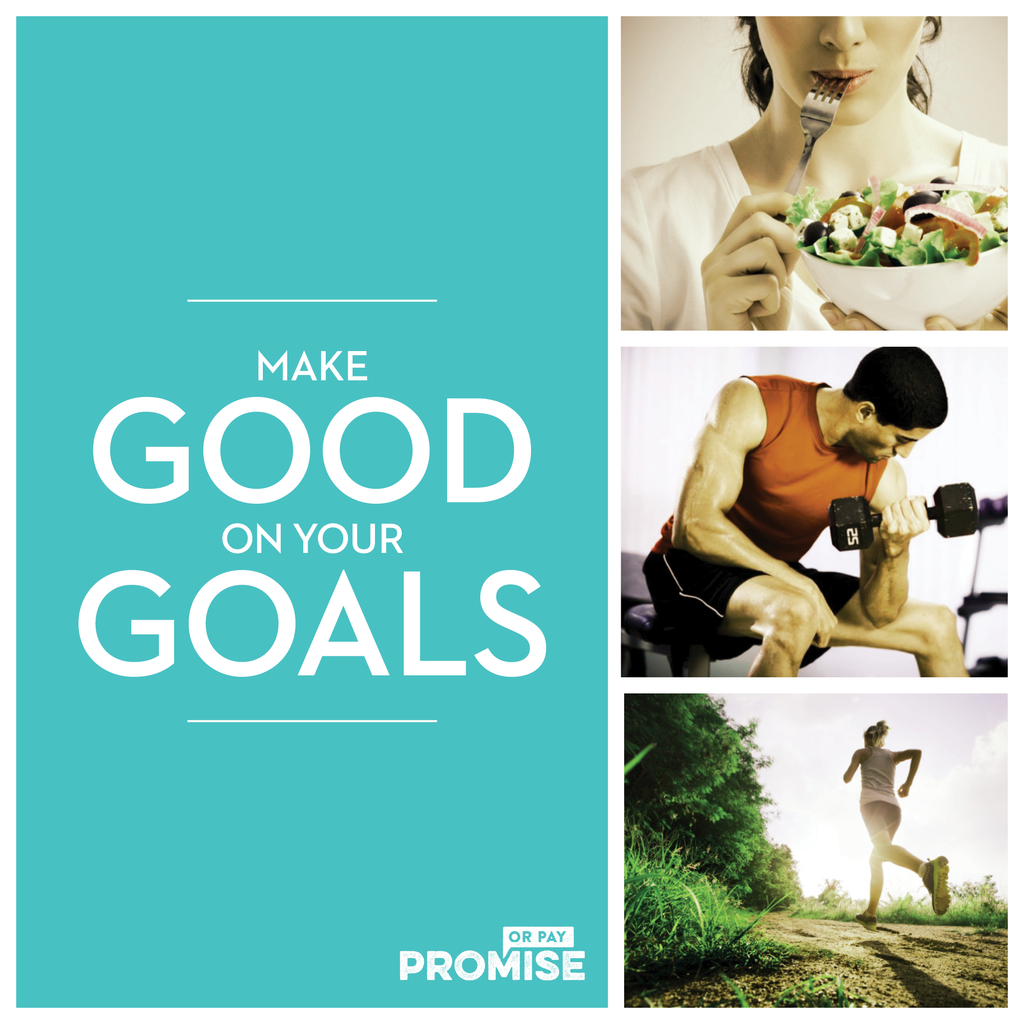 I know that sometimes we all need a little extra motivation to reach our goals, so I'm excited to have Jay from Promise or Pay with us on the blog today. I asked Jay to share with us some of his best tips to help you reach your fitness goals. Check out his great advice then head on over to Promise or Pay to check out the fantastic website.
You know that exercise is good for you. The problem is that getting fit and committing to a regular exercise schedule is tough. Despite nearly two-thirds of adults setting fitness as part of their New Year's goals, 73 percent give up before crossing the metaphorical (and literal) finish line
[1]
. No wonder kicking off and sticking to an exercise routine can be intimidating. But every achievement starts with a decision to try so don't lose hope! Here are 4 awesome goal-setting tips that can help you spice-up your fitness journey.
1. Take baby steps
Keep in mind to start slowly. As you get used to following a particular fitness regimen, your body will adjust. It's similar to preparing for a marathon race where you have to go slowly at first to get your body acquainted to running for long distances. If you start out too fast your body might not be able to keep up, which can be very frustrating! Remember that slow progress is still progress. So start with small steps and as you get used to your fitness regimen, begin to add in more time and effort.
2. Make a promise
When it comes to achieving personal goals, research shows that chance of success increases by 33% if it is shared with others and by up to 72% if money is put on the line.
Promise or Pay
is an online social motivation platform that helps you stick to your goals by donating money to charity if you don't follow through, and encouraging others to donate if you succeed.
What makes this awesome is that regardless of the outcome money is donated to charity!
 Keep your promise and your Supporters donate. Break your promise and you donate. It's win-win!
Promise or Pay motivates you to achieve your fitness goals, while creating a more engaging, personal and empowering way to donate to charities that make a better world. One promise can make a huge difference. What will yours be?
3. Workout with a partner
If you work towards your fitness goals with a partner or a team of people, you'll have more reasons to stay committed. If you try to do it alone you might naturally get bored and become unaccountable. The only special tip for choosing a reliable partner is that he or she needs to needs to have goals that resemble yours. With someone to remind you when you get off task and provide encouragement and support, you'll be more likely not to fall off the fitness wagon.
4. Find the time to workout
Finding the time to exercise can sometime be the hardest part. In fact, 36 percent of those who give up on their fitness goals say it is hard to find the time to exercise. If you are one of those people who are time poor, then it's a good idea to go back to the drawing board. Sit down and review how you spend your free time. See if you are wasting time in certain areas. Plan your time wisely and make sure to create some segments for exercise throughout your week. If you're often busy at the office and in traffic here are some tips for you:
· Park your car a distance from the office so you can get a short walk in
· Use stairs instead of the elevator
· Take a 1 hour break during work to take a walk or hit the gym
· Carry a packed, healthy lunch to work to avoid the temptation to eat junk or fast food
Make good use of the little time available and slowly but surely, you'll see the results.
Making positive lifestyle changes like getting in-shape is really difficult and unfortunately there is no miracle fix. Use these tips to overcome distractions and amplify your motivation to work out and achieve your health and fitness goals.
[1]
http://www.bodybuilding.com/fun/2013-100k-transformation-contest-press-release.html