One of the most regular questions I have been asked since changing to a Paleo-style diet, is what I eat for breakfast, and what my kids eat for breakfast. I've shared photos of our breakfast smoothies before on
Instagram
, but I thought I'd talk about it in a little more depth and share my three favourite recipes with you today.
When trying to adopt a healthier diet, breakfast seems to be the meal that stumps people the most and I totally get it, mornings are rushed and busy enough without being able to whip out a quick, convenient breakfast.
The way I look at it though, is my health and my family's health is worth getting up (and going to bed) 15 minutes earlier for. Starting the day with food that nourishes our body will not only improve long term health, but it sets your children (and yourself) up for better immunity, concentration, and behaviour/moods for the day. For for me, that is worth a little extra effort. And to be honest, once preparing a healthy breakfast becomes routine for you, you will probably find, like we did, that it doesn't actually take that much longer than the 'convenient' alternatives.
So, what do we eat for breakfast? My husband and I love a cooked breakfast, so I generally opt for eggs, lightly wilted baby spinach & tomato (all fried lightly in good quality grass-fed or organic butter). The kids will sometimes have eggs, but they usually prefer either of the two following breakfast smoothies (and read on to the end to find out why avocado is absolutely the best food to sneak into a smoothie, just trust me on this)..
Note: I use a mixture of good quality full cream cows milk and Vitasoy Coconut Milk in my smoothies depending on who I am serving for and how much dairy they can have. Therefore these smoothies aren't strictly Paleo, but I am still happy that they are full of nutrients and are a very healthy alternative to a highly processed breakfast. You could substitute whatever milk you wish into this recipe. Also, if your children are used to sugary milkshakes, you might want to start with a little extra honey in their first few milkshakes to sweeten it and then gradually reduce the amount of honey you use.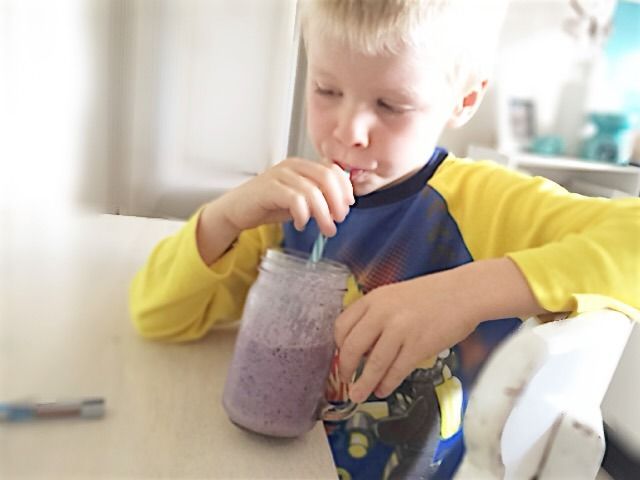 'Chocolate' Smoothie:
Milk (about 3/4 of the serving size you need)
1 heaped teaspoon of raw cacao
1/4 of a ripe avocado
small squeeze of honey (to taste)
Blueberry Smoothie:
Milk (as above)
1 handful of frozen blueberries
1/4 of a ripe avocado
small squeeze of honey (to taste)
Adults Protein Smoothie:
Either of the above combinations + my protein powder*
Olly adds a banana to the chocolate recipe too.
This plus a banana is my go-to breakfast if I'm running short of time and don't have time to cook.
Now, I promised to explain why you need to try avocado in your smoothie..
Hopefully by now we all know the many wonderful nutritional benefits
of avocado, including being high in Omega 3 (the good kind of fat), magnesium, phosphorus, iron and potassium, and containing finer and many essential vitamins and minerals. But what ice cream does to thicken your milkshakes, avocado will do to thicken your smoothies, and I promise that you won't taste it at all - I'm quite sure that my kids don't even know that I use avocado in their smoothie every day. I really love that they are getting those added nutrients in their breakfast. Trust me, you have to give it a try.
Let me know how you go, and if you have any other great recipes, I'd love to hear them!