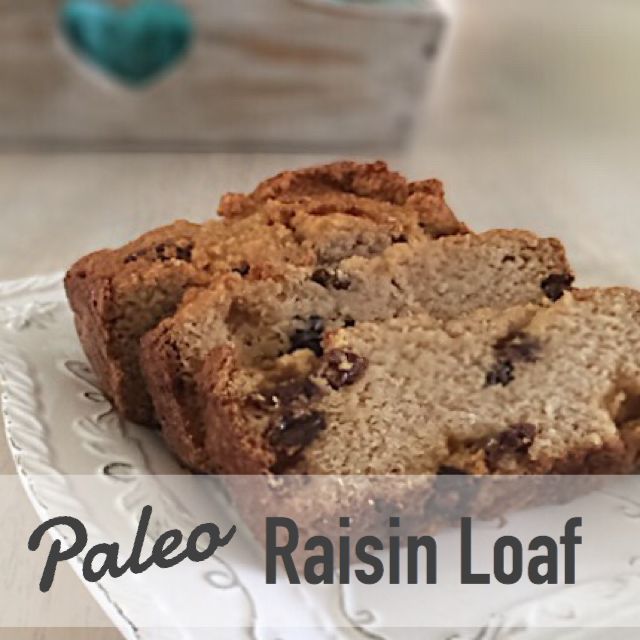 The below muffin/loaf recipe has become my absolute go-to recipe for pretty much any flavour of Paleo fruit muffins these days and last night I adapted it (and by adapted I mean added sultanas, or raisins for my american friends) to make Raisin Loaf.
Before becoming Paleo and having to go Gluten-Free, I used to LOVE me a good slice of thick-cut raisin toast. It's probably one of the very few foods that I smell now and miss eating. And as Easter is approaching and the hot cross buns have hit the grocery market shelves, I decided it would be a good time to try to make my own version of raisin toast/hot cross buns.
I am pleased to say that it worked really well (and even passed the kids taste-test). Serve it with a nice generous serve of grass-fed butter and you won't be disappointed.
If you look closely you will see that it is the same recipe I used to make my
Pear & Raspberry Muffins
but I'll share it again here as this time I'm using a loaf tin so the method is the slightest bit varied.
Ingredients

1 cup almond meal
1/4 cup coconut flour
1 teaspoon bicarb soda (or baking soda)
2 tablespoons of coconut oil (melted)
3 eggs
1/4 cup maple syrup or honey
Generous serve of raisins (or sultanas)
Method
1. Preheat oven to 150 degrees C
2. Mix the dry ingredients together
3. Add eggs, oil & syrup/honey, mixing well between each one.
4. Stir sultanas through gently.
5. Line a small loaf tin or rectangular cake tin with baking paper and pour mixture in
6. Bake for approx 25 mins, checking regularly.

Enjoy!