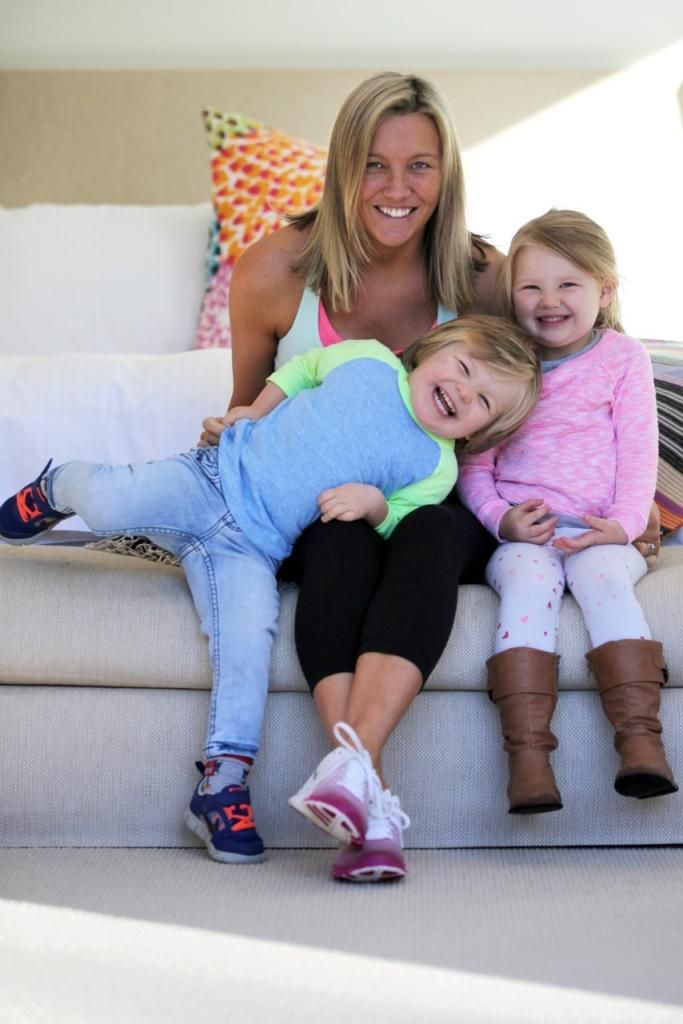 Welcome back to my final week of Inspirational Mothers. I've really enjoyed this series and getting to know some fantastically fit mamas that are very inspiring in their own individual ways. I'd like to do another chapter on this series later in the year, so if you are an active mama who would like to be featured, be sure to drop me a line.
This week I'd like to introduce you to Fiona from Mumafit. Fiona runs a fantastic website packed full of excellent inspiration and advice for soon-to-be and new mothers. Fiona is very down-to-earth and has some great tips to share with us today..
1. Hi Fiona, please tell us a little bit about yourself and your fitness background.
I'm Fiona, a mum of three young children (born within four years!) and founder of Mumafit, a holistic fitness app for pregnant women and new mums, and now a life and wellness coach working exclusively with mums. I completed a degree in exercise science back in the day and have around 20 years work experience in the leisure/fitness/sports industry in a real variety of roles. I've always been an active person and love board sports like snowboarding and surfing.
2. Have you always been able to successfully find the time to stay fit/active while being a mother?

Yes I have actually - in general that is! Of course there are days or weeks when it just doesn't happen due to sick kids or family commitments, but in general I've always made it happen. There are so many options for moving your body that you can usually find something that can fit in around everyone else's needs. I also have a very supportive hubby and am pretty organised. Upon reflection, I think I've actually been more consistent in my approach to fitness since becoming a mother, as my life is more about routine now so I've developed good habits and just stick to them (out of habit) and I have more reasons to stay healthy - you cant call in sick to mothering duties!
3. How often do you manage to exercise during the week, and how does this fit in with your family's schedule?
I go to the gym twice a week for about an hour (during term) and try and do one yoga class a week (which doesn't always happen as it depends entirely on my hubbys work commitments). Other than that I walk wherever I can with the kids (harder since having my third). We love holidaying and the beach, so our weekends are often active, although not with any structured activity. I don't believe in doing structured exercise every day - I don't think it is necessary if you have an active lifestyle and I believe that other elements of wellness, such as meditating or just having 'me time' are equally as important. My kids come with me to the gym and attend the gym crèche, or come on walks or runs with me. My hubby has his own business working very long hours, so other than my gym sessions, nothing is guaranteed!
4. What is your favourite type of fitness/exercise, has this changed at different stages of your children's lives?
Mmm this changes all the time actually. I would call myself a runner as I love it, can do it with ease and have done it all my life, but since becoming a mum, I've realised the benefits of strength training, so this is my staple activity. I run a lot only if I am training for a particular event - but that doesn't happen often since having kids. My favourite sports are surfing and snowboarding...which are both extremely difficult as a mother and someone living in Melbourne! I try and do them when I can, and this Christmas Santa brought me a skateboard, so this is my latest 'board' activity and I'm loving riding alongside my daughter on her bike (haven't figured out how to do this with a pram though....). The last six months, I developed a huge love for yoga. I'm not managing to do it regularly as my favourite place to do it doesn't offer childcare, but it's so good for me body, mind and soul. It has taken me years to find a teacher that I love, but I found her!
5. So, tell us what your average day looks like?
Every day is different and with my eldest just having started prep, it's all new this year. My hubby leaves at 6am 6 days a week, so early exercise has never been an option for me. On a gym day, we drop my daughter off at school, then head to the gym with my two boys. They have a session in the gym crèche, which they truly love, then we head to swimming lessons then head home. My littlest then has his afternoon sleep and I try and do a little bit of work, and some days we have a kinder session ni the mix. Every day is unique, but its normal for me not to really stop all day - there is always so much to do.
6. What is your philosophy/goals when it comes to family nutrition?
Cooking is far from my first love, so I try and keep things simple and fresh and healthy. I don't think I'm very good in the kitchen, but I think we manage to eat pretty well. Since having my third child I have found the need to meal plan weekly, or I simply can't keep on top of having the right food in the house. Feeding 5 of us is full on! I allow treats, but only after healthy food has been eaten. I am not strict on healthy food, but we really don't eat much junk. My kids have never had fast food and are generally good at eating vegetables and a variety of foods. We talk about what health is and involve them in our food choices as much as possible. We eat a truck load of fruit - so simple with children, and they love making smoothies and fresh fruit icy poles also.
7. Do you have any fitness/exercise goals for the future?

Not really at present. I might try a marathon one day when the kids are older and I have more time to train. I've never focused on weight - for me I just want to feel strong and healthy and feel comfortable in my clothes. I'm very focused on functional fitness - maintain a strong core to enable me to meet the demands of motherhood without any pain or fatigue and with my new found love of yoga, I am working on becoming more flexible and committed to stretching my body.
8. What is your best advice to mamas that would like to be able to be more active, but are having trouble finding the time?

Wow, SO much I could say here as this is what my wellness coaching work is all about - working with women to help them find what works for them. It's so personal as everyone has different bodies, lives, resources and families. Sometimes you just need a circuit breaker - eg working with a coach or trainer, or taking up some sort of challenge or short term goal just to get you moving in the right direction. You just have to make the decision to commit to it and make it a priority for a while. Once you then start feeling the benefits, you will find ways to find the time as your motivation is already there. You need to experiment until you find the type of activity that works for you. There are literally hundreds of options and with apps and online programs now, resources are limitless and are very affordable. Women (especially new mums) need to also remember that even if you only do 15 minutes of something - this is totally OK! In fact its awesome. You don't need an hour to gain benefits. Everything counts and there is a lot you can do with your children incorporated.
My main message to women is that by prioritising your health, you create the most magical ripple effect for your family. If you are healthy and happy, the energy vibe you create for your home and your lives is so nourishing and supportive for each and every family member. Honouring your body with physical movement is not something you should feel guilty about, its really really sensible and provides excellent role modelling for the future health of your children.