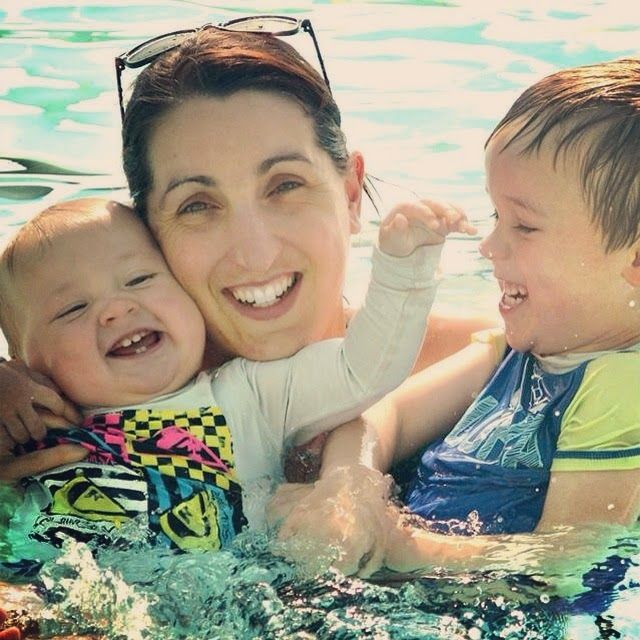 Welcome back again to our weekly series where we talk in depth to an inspirational mother who is managing to successfully juggle fitness and motherhood. Last week we spoke to the gorgeous Anita Nichols, and today we are talking to the lovely Danielle from The Noatbook.
1. Hi Danielle! Please tell us a little bit about yourself and your fitness background.
I am a 34 year old mother of two boys (aged 4 and 13 months). I am just finishing 12 months of maternity leave and I am returning to teach Health and PE two days a week. Before becoming a teacher I was a physiotherapist specialising in Women's health (including ante and post-natal exercise classes) and paediatrics.
My fitness 'thing' has always been netball. I started playing in Grade 2 and have played every since! I managed to play and coach at State League level for a few years and I still play with a group of great friends from those teams on a Saturday afternoon. Before having my boys my fitness was mainly centred around training for netball and included sporadic running and weight sessions. I have actually got more committed to my fitness after having my first boy. Twelve months after having MJ, I was the fittest and strongest I have ever been. It is now 13 months after having my second boy and I am almost back there again. My training is now more centred around functional fitness.
2. Have you always been able to successfully find the time to stay fit/active while being a mother?
Having the luxury of taking 12 months maternity leave certainly helped me find the time to stay active and I also joined a gym for the first time during this time. When MJ turned one I started to use the gym creche once a week. I am also lucky to have grandparents who volunteer to come and look after the boys sometimes so I can go to the gym for a second session a week.
I also used free resources on the internet such as Nike Training App and Bodyrock.com to help me complete workouts at home.
My partner is also a major reason I still find time to be fit and active. It is a priority in his life and so we often walk together, plan active days/holiday and he is completely supportive of me scheduling time to be active.
3. How often do you manage to exercise during the week, and how does this fit in with your family's schedule?
I go the gym 3-4 times a week. Always on a Sunday morning and Saturday morning too if I am not playing netball in the afternoon). I also go once or twice during a week, usually a Monday evening and a Wednesday or Friday morning. My husband is home with the boys for the first three sessions and I can make the forth session if my Mum or Mother-in-law volunteers to come and look after the boys. To make the Monday evening session work I sometimes need to meet my husband in the gym carpark and swap the boys over there! Fortunately the gym is close to his work and our house.
I've just finished a self-imposed challenge of walking 4kms a day every day in December and I loved it and ended up averaging over 5kms a day, so I have continued to try to maintain that into January as well. Having a clear, measurable goal was very motivating and the side bet to beat my husband also helped!!
4. What is your favourite type of fitness/exercise, has this changed at different stages of your children's lives?
My fitness used to centre around netball specific training.
After having MJ I found High Intensity Interval Training (HIIT) was the most effective and efficient way of improving my fitness. I've found I recently had to scale back on the high intensity workouts and now include more of a focus on weight training and walking and yoga.
5. So, tell us what your average day looks like?
My exercise sessions vary depending on the day. If I am planning on walking I tried to go when MJ was at kinder so I only had to push JJ in the pram. But sometimes I'll take both of them out in the double pram or other times I'll wait to my husband gets home and we'll go together or I'll go alone. If that's the case I make dinner early so we can eat as soon as we get back from our walk. My husband sometimes makes dinner on the nights I'm at the gym to make it work.
When JJ was younger (and lighter and less mobile) I used him as a weight in circuit/HIIT sessions - I have an eight week program on my blog.
I'm pretty organised and I know what I need to get done in a day and by planning my day I can get an exercise session in fairly easily.
If I am working I try to utilise my school gym to get a 30 minute HIIT or weight session in before or after work.
6. What is your philosophy/goals when it comes to family nutrition?
I love Michael Pollen's philosophy 'Eat food. Not too much. Mostly plants.' I try to limit our refined sugar intake. Soft drinks are a 'no-go', my four year old has still never had a drink of it. I cook dinner most nights with a focus on using whole foods and we try to avoid processed food. I'll always tweak a recipe to add a few extra serves of veggies e.g. lentils or kidney beans are added every time we eat a meal using beef mince. All of our carb based foods are whole grain varieties (brown rice, wholegrain bread, quinoa, wholemeal pasta/couscous etc).
I also love to bake, I just try to use healthy substitutes (such as apple puree or Greek yoghurt for butter and oil) as much as possible. We still eat takeaway, maybe once or twice a month, usually pizza, and for special occasions I go all out and make desserts full of chocolate and sugar - everything in moderation!!
The boys eat what we eat, I don't make a separate meal for them. We talk about 'sometimes' or 'party' foods and the need to eat lots of fruit and vegetables. We eat at the table together every night with the TV off.
7. Do you have any fitness/exercise goals for the future?
I ran a half-marathon in 2011 and I although I don't have a natural love or ability for running I've thought about doing another one to try to beat my time. I completed the Marysville 1/2 marathon and it is a steep course, so I'd like to try a flat course and see what time I could do.
I also want to be able to do 5 chin ups in a row!
But I do want a new challenge, but I'm struggling to think of something! Any ideas?
8. What is your best advice to mamas that would like to be able to be more active, but are having trouble finding the time?
Walking is the easiest and best place to start. Buy a good pram suited to all terrain walking and if you have two young kids also invest in a double pram. We initially resisted buying the double pram but it is the best thing we did. We got Mountain Buggies second hand off ebay for a bargain. It's also a great way to build exercise into your day e.g. I'd walk to the library or the shops or kinder pick up.
Focus on quality over quantity - a well constructed 30 minutes of HIIT training is more effective than a hour of steady state cardio or light weights. Make sure you feel informed and educated about your workouts so you don't waste your time on ineffective workouts and feel disheartened at your progress.
Make exercise a priority and schedule it into your day just like you would an appointment or Mother's group or grocery shopping. Don't feel guilty about taking time to exercise - it is necessary and important. I find I tend to confuse lack of motivation with lack of time. When I find activities that are motivating and interesting and varied I get excited about exercising and I manage to find the time far more easily! I find I need variety and need to mix it up to keep me interested.
Often I don't like to have to think too much about what I am doing - that cantake time. That is when I'll go to a group fitness class or complete a Nike Training App workout so I can just turn up or press play and I am away. I also write any interesting workouts I find into one little book so on the nights I need inspiration I can just grab it on the way out and and pick a workout without wasting any time.
And remember pelvic floor exercises can (and should) be done anywhere!!
Thanks so much for all the great advice and for joining us today Danielle. To learn more about Danielle, make sure you head over and follow her fabulous blog.