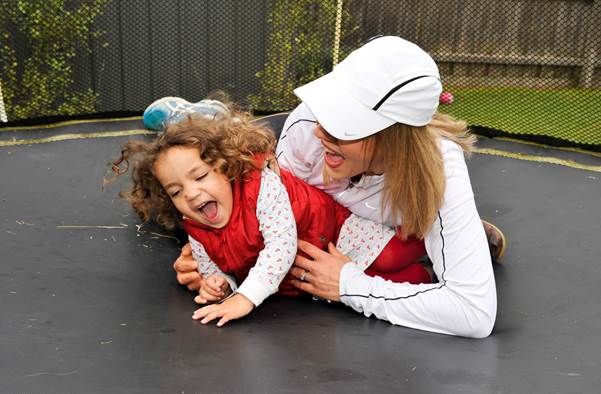 Welcome back! This is the second post in my Inspirational Mothers Series. In case you missed last week, we spoke to Ironwoman Karla Gilbert. Today, I'm very excited to introduce you to Anita Nichols. Not only is Anita a mother of three totally adorable children, but she is also a qualified personal trainer and owner of the great fitness blog Fit Mother Hubbard...
1. Tell us a little bit about yourself and your fitness background.
I'm a Melbourne mum of 3 little ones under 5 and am married to my hot Fijian/Kiwi husband. I've been passionate about fitness for most of my life, participating in every school sport imaginable! If it involved keeping active, I was the first one to sign up. Running has really been my thing over the past 13 years. My favourite is the half marathon and in 2012, I completed my first full marathon. Trail running has also provided lots of fulfilment for me over the past 12 months. I love the scenery that it offers and it is much nicer on my back. I'm a qualified Personal Trainer and am currently studying a Lifestyle, Food and Wellness course which I am loving.
2. Have you always been able to successfully find the time to stay fit/active while being a mother?
Absolutely, it's not negotiable for me. Whether it be walking or running the pram or working out whilst the kids are sleeping, I aim to fit something in my day. The housework may have taken a beating over the past few years but I'm too pretty for housework. Ha ha. I must admit, at times it can get more difficult to workout with 3 kids so at times my training is broken up into two parts.
3. How often do you manage to exercise during the week, and how does this fit in with your family's schedule?
I aim to workout 5 days a week, anything more is a bonus! We run a very tight ship here when it comes to mine and my husband's training schedules (he's a triathlete). The rule is if it's not in the planner, it doesn't happen. We try to keep our training times to the early morning or evening so it doesn't impact our family time too much. That isn't always possible but it goes to plan most of the time. Another rule we have is that if we skip a training session for whatever reason, it can't be made up on another day. That just throws everything into disarray. Our first child starts school this year so I imagine things are about to get a whole lot busier!!
4. What is your favourite type of fitness/exercise, has this changed at different stages of your children's lives?
I LOVE to run, particularly long distances but I have found that I am getting a lot more aches and pains the older I get. Long distance running also takes up a lot of time and my passion for long distance running is not as strong as it once was now that I have a family. I had a lot of injuries last year from running so I have incorporated lots of HIIT (High Intensity Interval Training) training into my schedule as well as shorter distance running. (5-7kms). The shorter workouts are a lot more flexible for me with a busy family.
5. So, tell us what your average day looks like?
We rise early here! Whilst the kids are eating brekkie at around 7, I'll do some core strength work for 10 minutes on the mat in the lounge room. If it's not a kinder day, the 5 and 4 year old will get on their bikes and scooters and I'll push the pram and we do a 4km loop. It's a daily ritual that we stop at our favourite café for our morning babycino and coffee fix.
We get home mid-morning, have something to eat then the kids will spend time in the backyard looking for bugs or building a cubby house, whilst I do some work. We then enjoy lunch together, usually outside on the patio and chat about anything and everything.
We then spend the afternoon hanging out. The kids will craft whilst I try to get some more work done or they'll play dress ups or watch some TV. We then head out again and go down to our local park where we will feed the ducks or have running races at the oval. Then witching our takes over and we swiftly move into dinner, bath, book, bed time. I'm exhausted just writing that.
6. What is your philosophy/goals when it comes to family nutrition?
I never thought that I would be as interested in nutrition as I do now that I have a family. So much so that I'm studying it! I have 3 kids with eczema, (one is severe) and I have done a lot of experimenting with foods over the last couple of years. It's pretty simple for us now. We eat a variety of fresh fruits, vegetables, quality meat and rye bread and have the odd treat thrown in. I'm big on educating the kids about the benefits of food as I really do believe that food is medicine. (Sounds cliché but it's true). We have minimal processed foods in our house. The kids know the difference between good food and bad food and we spend a lot of time in the kitchen together, it's a great way for kids to learn. I have cut out dairy and grains from my diet, not because it's apparently trendy to do so, it makes me feel 100 times better and less bloated.
7. Do you have any fitness/exercise goals for the future?
Oh I do. I have always had in my mind that I would love to do an ultra- marathon (100kms'). It's not on the grid for this year but it will happen in the next couple of years. I am also planning on surprising my husband next year and doing a triathlon together, hopefully in Spain. Shhhh don't tell him. In the short term, we are in transition mode at the moment and are potentially relocating to Auckland next month. Perfect for active families right? I am keen to do a couple of trail runs this year as well as a duathlon. Whether that be in Melbourne or New Zealand, I'm not sure but it will happen.
8. What is your best advice to mamas that would like to be able to be more active, but are having trouble finding the time?
My advice is simple, make time for YOU! Yes YOU! It is so important. As mums, we dedicate so much time to our families that we often forget about ourselves. Believe me, making time for YOU to do a regular exercise session will not only give you more energy to play with your kids but it will also make you feel good about yourself. Who doesn't want that?
I'm sorry but using no time as an excuse just doesn't cut it for me. It is just another excuse. You make time. Put it in the diary and make it happen. Remember that you don't have to do long bursts of exercise to reap the benefits. Short, sharp bursts of 15-20 minutes is all it takes. Break it up if you have to, just get it done. My 3 top ways to exercise with kids are:
1. Whilst the kids are playing at the park, create a circuit for yourself and do it whilst they are playing. (eg 15 squats, 15 push ups, 15 tricep dips on a park bench x 3)
2. WALK WALK WALK everywhere. You'll be surprised how effective this can be. Run out of milk? Walk to the shops instead of drive.
3. Make it fun! Have a 20 minute dancing session with the kids as soon as you wake up. Ditch the TV, ipdads etc and pop some funky music on and dance like nobody's watching! We do.
Thanks so much for joining us today Anita! It's been a pleasure having you here!